Camel Audio has released Cinematic and Dance & Trance, two new soundbanks for Alchemy (includes free Alchemy Player).
We've released two new Alchemy Soundbanks – Cinematic and Dance & Trance. Like all Alchemy Soundbanks, each bank is a standalone instrument in its own right, as it comes with a complementary copy of the new Alchemy Player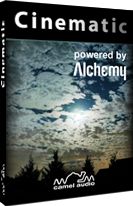 Cinematic consists of 150 presets which will provide loads of inspiration for film, TV and ambient composers.
With dramatic soundscapes, mysterious textures and evocative atmospheres, it covers a lot of emotional ground, with moods ranging from gentle and thoughtful, romantic and moving, through upbeat all the way to bleak and disturbing. Ideal for many genres such as action and adventure, suspense, sci-fi and horror, and packed with slowly evolving details and innovative instrumental layers, Cinematic also includes over 100 MB of new samples ranging from a collection of thunderous hits and stabs to tinkling chimes, suspense-filled drones, bowed horror ambiences, treated guitar washes, and a selection of analogue and digital synths and keyboard sounds.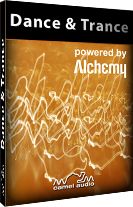 Dance & Trance drives your music towards hypnotic euphoria, with its anthemic leads and basses, chordal stabs, pumping beats, stuttering gated riffs and darting arpeggios.
Featuring a total of 150 sounds including massive supersaw and hard sync synths, aggressive underground sounds and epic hooks, it also has a gentler side when you want to chill out, with seriously lush pads, delicate digital synths, breathy sweeps, skippy grooves, and dancing delays. Whether you like your sounds classic, acid, progressive, or uplifting, raising the energy has never been so easy, while loops, arpeggios and riffs all remain tempo-locked to your songs whatever their BPM. It also includes a few specially-selected samples including four-on-the-floor beats, fat basses and specially flavoured synths.
Cinematic and Dance & Trance are available to purchase for $59 USD / 49 EUR / £39 GBP each.
Visit Camel Audio for more information.