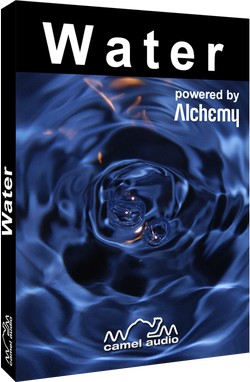 Camel Audio has announced Water, a sound library for the Alchemy and Alchemy Player sample manipulation synthesizer instruments for Windows and Mac.
Water is overflowing with aquatic musical instruments, rippling pads, tidal soundscapes, rhythmic splashes, inventive water machines, and wave-like takes on traditional sounds – all with extensive remix variations for real-time performance.

Water features 150 presets and 530MB of samples including oceans, lakes and rivers, rain, thunderstorms, splashes, bubbles, seaweed, ice impacts, and more – resulting in a diverse collection of unique and highly musical sounds that are suited to a wide range of genres.
The Water library is currently priced as a "Pay What You Want" product, and a proportion of choice will be donated to FRANK Water who help provide clean water to communities in developing countries. After October 9th, 2013, the price will be set at $59 USD / 49 EUR / £39 GBP and 50% will be donated to FRANK Water.
New customers also receive the free Taste of Camel sound library, featuring 120 presets selected from 24 libraries, and 1GB of samples.
An Alchemy Mobile version of Water (50 presets) will be available soon as an in-app purchase for $4.99 USD, and 50% of the net proceeds will be donated to FRANK Water.
Visit Camel Audio for more information.