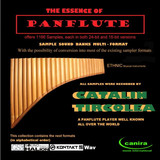 Canira Music has announced a limited time offer for The Essence of Panflute, a sample library for HALion and Kontakt.
The Essence of Panflute in the electronic variant (download 3.5 GB) at the incredible price of 8.99 EUR only during 06 10 2010 – 31 01 2011! (HALion, Kontakt, Giga Studio and audio Wav 24 and 16 bit).

At its launch, The Essence of Panflute on DVD was distributed by the renowned German company Best Service at 67 EUR. The price is now normally 35 EUR.

The Essence of Panflute was honored with 5 stars by the magazine Sound on Sound, and 3 of the 43 instruments have been used by the prestigious collection Ethno World 5 – Marcel Barsotti, produced by Best Service, which is a great honor for us.
Canira is also offering Panflute Free as a free download for for HALion 3.5.593 and Kontakt 4.1.1 users.
More information: Canira Music