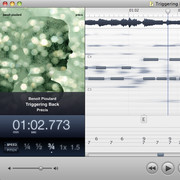 SuperMegaUltraGroovy, makers of innovative music tools for Mac, is celebrating their 2011 Apple Design Award by offering a 20% discount on all purchases made from June 15 through June 30, 2011.
"In addition to positive customer feedback, winning an Apple Design Award tells us that we're on the right track with Capo software," said Chris Liscio, SuperMegaUltraGroovy's founder. "We encourage our customers to take advantage of the discount to add the iPhone/iPad App or welcome new customers to discover a great way to learn music at their desk or on the go."

The award was given to SuperMegaUltraGroovy at a ceremony held during the 2011 Apple World Wide Developer Conference (WWDC) held earlier this month in San Francisco. Capo won in the Mac Developer Showcase category.

Available in a desktop version for Mac OS 10.6 as well as a mobile version for iPad, a 32GB 3rd-generation iPod touch, iPhone 3GS, iPhone 4, or 4th-generation iPod touch with iOS 4.0 or later, Capo is a powerful, modern tool that helps users learn to perform their favorite music using the original recording. Capo makes it easy to adjust the speed of a song to learn it at individual comfort levels as well as pitch to learn songs in the key of a particular instrument. It can detect chords in real-time without pre-analysis, can create a loop to practice difficult passages and can save markers, loops, pitch and speed settings so musicians can work on a song over multiple sessions.
Capo for Mac is available for $40 USD, 20% off the MSRP of $49 USD through June 30, 2011. Capo 2.1 for iOS is available for $16 USD, 20% off the MSRP of $20 USD through June 30, 2011.
More information: SuperMegaUltraGroovy / Capo