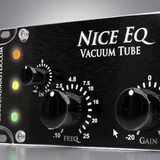 CD Sound Master has released Nice EQ VST, a vacuum tube equalizer effect plug-in for Windows.
The "NICE EQ" brings one of the most sought after hardware eq's directly to your DAW with amazing accuracy. You are actually working with two unique hardware eq plug-ins, with Solid State and Vacuum Tube versions. Not only is an ultra-realistic analog frequency attribute being performed, but also advanced harmonic content.

NICE EQ is based upon a new sound engine called Acqua, developed by Acustica Audio, creators of the "Powered by Nebula Core II Technology" engine, an advanced form of audio generation called V.V.K.T., or Vectorial Volterra Kernels Technology. This allows the Plug-In to reproduce exacting details of analog sound, not just changes in frequency but also harmonic content in the form of live, streaming data.
Nice EQ VST features
Bell-shaped Solid State and Vacuum Tube EQ's with a unique 1.0 "Q" width, including first order even and odd harmonics, and +/- 20dB of Gain.
Frequencies included: 100Hz, 250Hz, 750Hz, 1.3kHz, 2.5kHz, 4.8 kHz, 7.5 kHz, 10kHz, 16 kHz, 20kHz, and 25kHz.
Acqua Stand Alone VST Plug-In for Windows VST Audio Platform, featuring V.V.K.T. advanced sound engine.
True harmonic content that changes with every frequency and gain value.
64 Bit dynamic audio processing and 96kHz Actual Sample Rate with unmatched conversion quality to different rates.
Easy Authorization Process.
Compatible with any Windows 32 bit VST Host.
Nice EQ is available to purchase as a VST effect plug-in for Windows PC, priced at $59 USD. CD Sound Master is offering a free copy of the NICE EQ Nebula Library as a special promotion for those who purchase both Nice EQ VST and Nebula Pro.
More information: CD Sound Master / Nice EQ VST