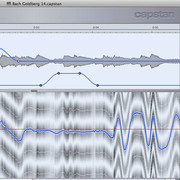 Celemony has released Capstan, a program for removing wow and flutter from recorded music.
Capstan is an all new method to correct wow and flutter problems. It detects pitch problems directly from the inside of the musical signal and corrects them as straightforward as possible: by speeding up and down the playback of your audio file directly reciprocal to the speed changes which generated the problems.

Being musically intelligent, the Capstan algorithm is capable of recognizing not only the minutest amounts of wow and flutter but also continuous speed variations within the musical material itself and makes possible detailed editing that extends even to drawing in the curve manually. It is based on the patented DNA Direct Note Access technology made famous by the award-winning program Melodyne, which is used worldwide in all major studios for the editing of pitch and timing.

Whilst the precise detection of the wow and flutter represents the actual technological revolution, repairing the recording is easy: the musical material is simply played back with the velocity curve inverted. Pure varispeed – guaranteed free from artifacts.
Capstan for Windows and Mac is available to purchase for $4,458 USD / €3,790 EUR.