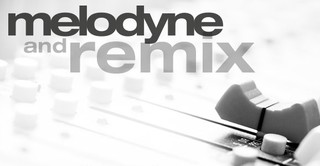 Celemony has introduced Melodyne and Remix, a new tutorial series for the Melodyne audio editing software.
In a new tutorial feature devoted to the creative use of Melodyne, Celemony is focussing on remixing.

Melodyne is known as a great tool for the correction of intonation errors and the optimization of vocal tracks, but is capable of much more. A series of video tutorials now shows how Melodyne helps to separate a vocal part from its accompaniment, how to produce crazy echoes and other effects with Melodyne's characteristic audio notes and how to use audio-to-MIDI to double or replace sounds.

Fundamentals, such as how to adapt loops fast to new musical contexts and the more efficient use of Melodyne in a DAW, are also dealt with. Artists' interviews and statements, important tips from the manual, remix examples from users, and a buyer's guide to the various editions of Melodyne round off the series of tutorials.
More information: Celemony / Melodyne as a remix tool