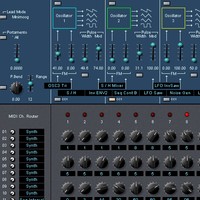 Cescato Musiktechnologie has released version 1.1 of Trans Computer Maschine, a free synthesizer instrument for Windows.
Trans Computer Maschine is a semi-modular Vintage Lead Synthesizer + Pattern Sequencer. Modeled after two legendary mono synths and a custom analog sequencer from Germany.
Changes in T.C.M. v1.1
Added 'inverted Envelopes' modulation sources.
Added 'OSC3' to S/H trigger sources.
Added 'Seq Cont' sources for pulse width modulation.
Added Sequencer 'Stop' status label indicator.
Added 'Synthi' lead mode.
Improved compatibility for Linux/Wine and platforms missing Windows native fonts.
Improved GUI showing 'Filter' routing.
Improved phase-aligned LFO 'Seq Sync'.
Improved 'S/H' & 'S/H Mixer' filter modulation modeling.
Smoothed amplitude modulation for 'LFO Square' source.
The Trans Computer Maschine for Windows (VST) is available to download from the Cescato Musiktechnologie forum.
More information: Cescato Musiktechnologie