Cherry Audio has announced the release of the VM2500 Collection for Voltage Modular, a collaboration with MRB featuring modules that were painstakingly recreate the coveted, and incredibly rare, vintage ARP 2500 modular synthesizer.
All 18 modules originally produced for the ARP 2500 system have been recreated in perfect detail, as well as a couple that were planned but never produced (including a full-function oscilloscope and a spring reverb), and a mixer module that never existed, but should have! We've eliminated the matrix-switch I/O scheme and replaced all connections with standard CV jacks, and added bi-polar CV attenuators to all modulation inputs for full compatibility with all Voltage Modular modules.

But most importantly, the tremendous analog sound and unique features of the original modules have been retained in their entirety, with a few small tweaks to improve the practicality of these 50-year-old designs.
The collection is available for $49 USD.
Additionally, two new modules for Voltage Modular are available: Mighty Piano Roll and Re-Animator.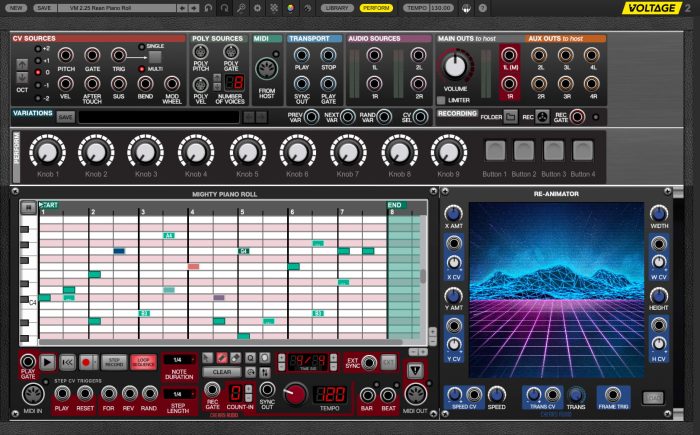 Mighty Piano Roll has DAW-style graphical "piano roll" functionality, allowing extensive graphic drawing and editing of note sequences. It's fully polyphonic with independent MIDI channel assignment for each note, and allows unlimited pattern lengths.
Re-Animator makes adding graphics and visual motion to Voltage Modular patches a snap, and can even help users better understand what's happening in modular patches. Still images and animated GIF "movies" can be loaded via the "load" menu, or by simply dragging and dropping. Transparency, width, height, and X/Y offsets are all modulatable via CV inputs.
Both modules are free for all Voltage Modular users.
More information: Cherry Audio