Cherry Audio has announced the release of its new virtual instrument CA2600, a powerful, self-contained duophonic synthesizer inspired by the groundbreaking ARP 2600 synthesizer from the 1970's.
Every aspect of the original, from the quirky oscillator waves, to the deep and powerful filter, to the external audio input and preamp section was modeled with tremendous precision. Additionally, numerous updates have been added to increase its flexibility and usefulness.
Though it features similar functionality, it's been thoughtfully updated for increased flexibility – with semi-normalled patch cabling, integrated effects, and no hidden windows or menus in the audio path, CA2600 delivers an unprecedented hands-on, "everything right in front of you, right now!," vintage synthesis experience like no other.

Wildly flexible, capable of chunky basses, cutting leads, super-creative external audio processing, absolutely insane effects, and so much more, we believe you'll find CA2600 to be the finest 2600 emulation ever created.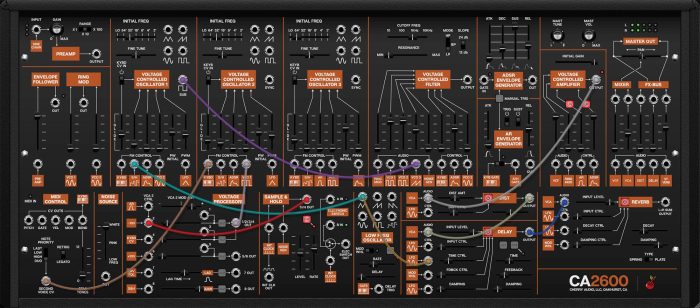 CA2600 features
Every aspect precisely modeled in exacting detail.
Over 300 presets.
Monophonic and duophonic voice modes.
Vintage-correct multi-mode filter with 12db and 24db slope.
Integrated, fully CV-controllable distortion, reverb, and delay with sync.
Sidechain audio input for external signal processing.
Flexible CV Routing.
Multiple voice assign modes.
Advanced patch cabling with unlimited mults per jack, "quick patch" for rapid multiple destination routing, and click and drag movement of multiple connections.
Additional LFO with six waveforms and tempo sync.
Voltage Processors section with additional VCA and 1/2-step quantizer.
Selectable blue, gray, or black/orange color schemes.
Full MIDI control.
Full DAW automation for all controls.
Available in VST/VST3, AU and AAX plugin formats as well as standalone software for Windows and macOS, the synth is on sale for the introductory price of $25 USD for a limited time (regular $39 USD).
CA2600 is available from Cherry Audio and distributor Plugin Boutique.