Cherry Audio has announced that its Winter Wonderland Holiday Sale of Voltage Modular, Misfit (Audio) Toys and 3rd party modules continues now thru the New Year.
Voltage Modular prices start as low as $9.95 USD for the introductory Voltage Modular Nucleus package (22 modules with over 100 presets). The flagship premier package, Voltage Modular Core + Electro Drums is only $49 USD. Including 112 modules and 385 presets, that's only 44 cents a module!
Upgrades are also discounted during the promotion, and 3rd party module prices start as low as $5 USD, featuring modules and super-saving bundles from Sonobiosis, MRB, PSP Audioware, Hype Audio, Andrew Macaulay, Benard, Insomniac, Nekomatic, M*4, and Cherry Audio's Year One Collection.
Furthermore, Cherry Audio has announced some 3 new modules from MRB.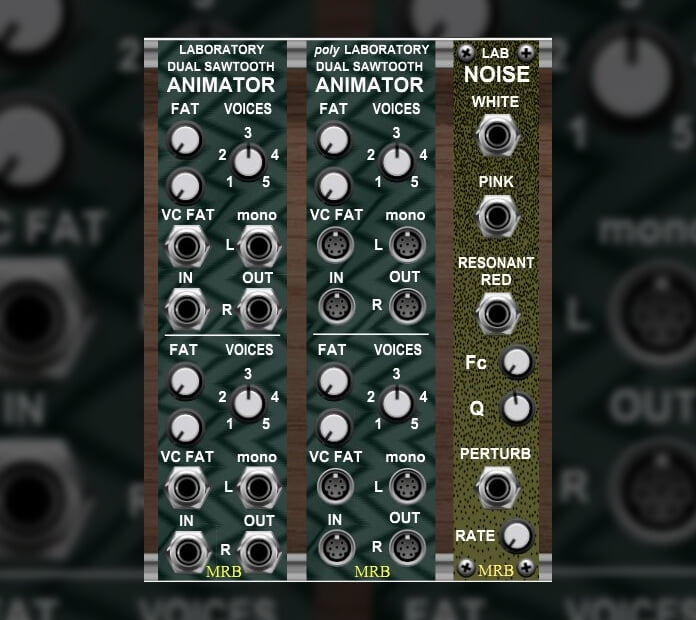 The first is a semi-clone of the another popular Cynthia module, the Dual Sawtooth Waveform Animator. The new Laboratory Dual Sawtooth Animator allows you to put in a sawtooth (or any wave), and out comes the original plus 4 more sawtooth waves. The detuning is voltage controllable (labeled "VC FAT"). There are 2 independent sections for a total of up to 10 oscillators.
The second is the poly Dual Sawtooth Animator, which of course never existed in hardware. Laying down a few notes and hearing 50 oscillators is stunning. The animation oscillators are low cpu which makes this possible.
The third is Laboratory Noise, a little module featuring 4 different noise-type outputs: white, pink, tunable resonant red, and rate-adjustable compound-sine perturbation. The white and pink noise is super high quality.
The modules are available for $10 USD each, or as part of the Laboratory Bundle for $79 USD.
The Winter Wonderland Holiday Sale runs through January 5th, 2020 at the Cherry Audio online store and distributor Plugin Boutique.