VST Buzz has launched a new two week deal on Chris Hein Horns Pro – Sections & Solos, offering 66% off on the Kontakt Player library featuring a stunning collection of Brass & Woodwind instruments dedicated to the production of Jazz, Pop, Big-Band and Funk music.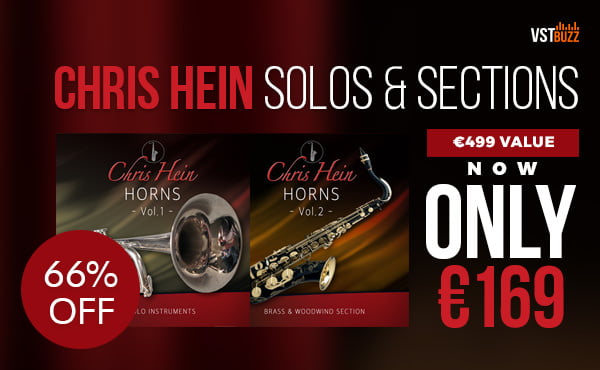 Chris Hein Horns Vol. 1 Solo contains five highly detailed solo Instruments – C Flute, Alto-Sax, Tenor-Sax, Trumpet, Trombone and an additional Trumpet-Section. There have never been nuanced instruments like these created by a computer.

The perfect addition to Chris Hein Horns Vol. 1, Volume 2 contains a collection of 17 Solo Instruments and a huge selection of mixed Sections. With up to 2000 samples, 20 articulations and up to 8 velocities the instruments of Vol. 2 are equipped with enough expressiveness to compose tight brass sections for a small funk combo as well as complete big-band arrangements.

Combine the two and you can realise nearly any instrumentation of any brass section, jazz, pop or big-band production!
The Horns Pro bundle pack is available for just 169 EUR until August 15th, 2017 (regular 499 EUR).
More information: VST Buzz / Chris Hein Horns Pro – Sections & Solos