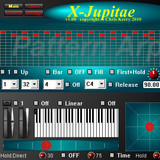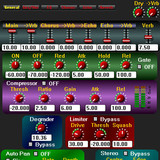 Chris Kerry has released X-Jupitae, a virtual synthesizer instrument plug-in for Windows, and Multi-FX a separate unit from the multi effects featured in X-Jupitae.
X-Jupitae features
3 powerful dual voice 'Flexi' oscillators (Xmod, FM, PhaseDist, Ringmod etc).
Dual multi-mode filters, series, parallel or independent. (12, 24, 36, 48+ db).
4 freely assignable Graphic 8 stage multi-contour envelopes with one-shot and repeating options.
Very flexible modulation options – up to 4 modulators each (Pitch, Pan, Cutoff, Amp etc).
Performance based:- Ribbon and XY Pad controllers, great for live sound manipulation.
28 note polyphony (unrestricted), Polyphony Limiting option (removes voice stealing clicks and limits CPU), Mono mode.
Interactive 32 step 12 note pattern arpeggiator.
Multi-FX section: Degrader, Limiter/Distortion, Eq, Ensemble, Auto-Panner, Stereo Imaging, Chorus(2v), Echo(5tap), Reverb.
Compact User interface using Paged panels.
Multi-FX features
Stereo Gate.
Stereo Compressor.
Stereo Degrader (3 modes).
Stereo Limiter/Distortion.
Stereo 3 Band EQ.
'True' Stereo Reverb.
Ensemble.
Chorus 2, 3 or 4 voice.
5 Tap Echo with Pre or Feedback Filtering.
Auto Panner.
Stereo Imaging (Centre and Side).
Compact User interface using Paged panels.
X-Jupitae is available to purchase for £10 GBP, Multi-FX is £6 GBP. Both are available as VST plug-ins for Windows PC.
More information: CK Modules