Sound effects producer BOOM Library has announced the release of its latest product Cinematic Elements: Fire & Water.
This collection with more than 13GB of data offers more than 2,500 high-quality sound FX in 550+ 96kHz/24-bit WAV files. The sounds are intended to be used for fire and water movement in any size as well as for transitions, impacts and sweeteners for professional trailer sound design.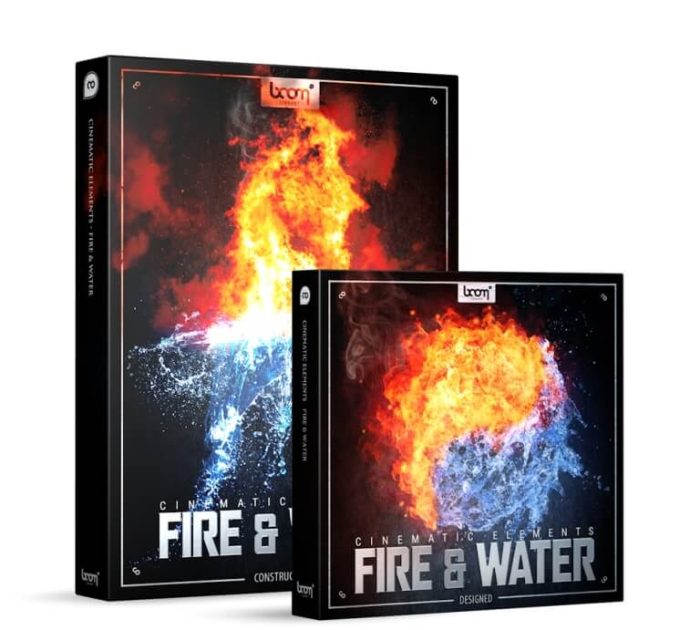 The FIRE & WATER – CONSTRUCTION KIT offers more than 2,000 (!) crystal-clear source recordings.
The CONSTRUCTION KIT equips you to sculpt authentic and powerful sounds for your hot & wet projects, featuring virtually any movement, size, intensity, duration, state or sonic color.

The FIRE & WATER – DESIGNED edition is a collection of completely pre-designed and ready-to-use sounds. This is where the incredibly detailed recordings of the CONSTRUCTION KIT take on a life of their own with earth-shaking force and impact. Most sounds are available as small, medium and large variants – all fully immersive and production ready: You can't help but picture an epic scene for each with your eyes closed.
The Fire & Water Construction Kit collection is priced at 149 EUR/$179 USD, the Designed collection is 99 EUR/$119 USD.
A bundle of both is on sale at the discount price of 159.20 EUR/$199 USD until May 24th, 2018 (regular 199 EUR/$249 USD).
More information: BOOM Library