Plugin Alliance has announced a flash sale on the Brainworx bx_shredspread intelligent M/S stereo width and enhancer plugin and the Sandman Pro delay plugin by Unfiltered Audio, offering up to 65% off for a limited time only.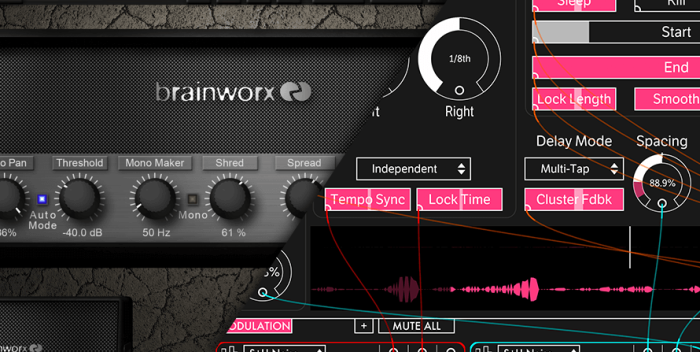 Although mainly created for guitars, bx_shredspread can also be used on keyboard groups, organs, choirs, background vocals and other stereo or doubled tracks. bx_shredspread can control panning, stereo width, and the "tone" of your stereo guitar tracks and groups. It automatically avoids phase problems that commonly occur when using M/S technology thanks to Brainworx's legendary algorithms for stereo width, EQ and pan.

Since its release, Unfiltered Audio's Sandman has wowed mix engineers, sound designers and DJs alike with its slice-and-dice genius. A delay plugin with a severe narcoleptic bent, Sandman uses its Sleep mode to freeze its delay buffer to create stunning loops and grains that can be re-pitched, down-sampled, played in reverse, dirtied with noise and modulated — transforming and mutating sounds beyond all recognition! Using very short delay times, the shape-shifting Sandman alternately becomes a flanger, stutter generator, wavetable synthesizer or percussion resonator. But Sandman also excels at producing traditional echo and stereo ping-pong effects, providing delay times ranging from slapback to longer than a coffee break.
The bundle of bx_shredspread and Sandman Pro is on sale for $69 USD ex. VAT until May 20th, 11:59pm PDT (regular $198 USD). The plugins are also on sale individually at 51% off each during the promotion.
More information: Plugin Alliance