Plugin Alliance has announced the release of Sandman Pro, a major upgrade to the critically acclaimed Sandman delay/looper effect plugin by Unfiltered Audio.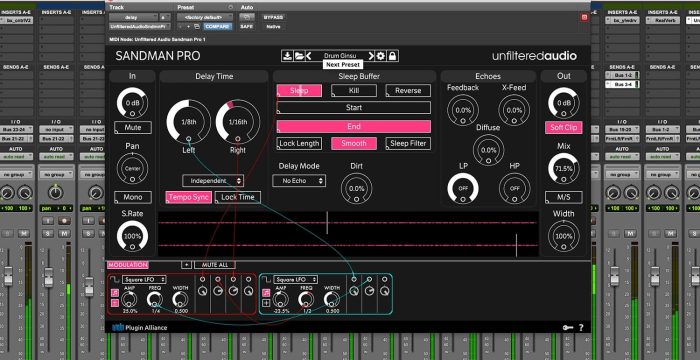 This is a complete update over our classic Sandman plug-in, and features seven delay modes, a completely patchable modulation system (yes, you can now modulate Sleep and Kill!), a dual filter, a diffusion network, and more.

It features over 100 presets, including presets designed by Richard Devine, Simon Stockhausen, Julius Dobos, and Toby Pitman. We cannot wait to hear what you make with it!
Sandman Pro features
Seven new delay modes: Classic Tape, Modern Instant, Pitch Shifter, Glitch Shifter, Multi-Tap, Reverse and No Echo.
Produces an unparalleled variety of time-based effects, including flanging, phasing, chorus, ping-pong delays, 16-tap delays, automatic double tracking, reverse echoes, reverb, pitch shifting, harmonizing, granular synthesis, percussion resonator, stutter generator, glitch effects and many other effects that defy description.
Professionally designed presets from Richard Devine, Julius Dobos (a.k.a. forgotten future), Simon Stockhausen, and Toby Pitman of Air Studios.
Delay times range from 5 ms to a whopping 1,000 seconds when used in conjunction with Sample Rate reduction.
Sleep buffer can be reversed, re-pitched, down-sampled, trashed with noise, modulated and shaped with built-in lowpass and highpass filters.
Every control—including the Sleep and Kill (panic) buttons—can be automated.
Unfiltered Audio's flagship modulation system provides six freely assignable and fully automatable modulators (sine LFO, sawtooth/triangle LFO, square-wave LFO, input follower, sample-and-hold noise, and macro control knob), with intuitive drag-and-drop patching to each and every one of Sandman Pro's controls.
Left and right channels can have cross-channel feedback and filtering applied and their delay times linked, offset or independently adjusted.
Feedback, X-Feed and Diffusion parameters to create thick delay tails or even reverbs.
M/S mode outputs Mid and Side signals on left and right channels, transforming Sandman Pro into a mid-side encoder.
M/S Width control adjusts the wet signal's stereo field from mono to stereo to super-wide stereo.
Soft Clip function provides analog-style saturation at Sandman Pro's inputs and outputs.
Waveform display shows the effect of your control tweaks in real time.
Sandman Pro for Windows and Mac (VST/AU/AAX) is available for purchase for $99 USD. A purchase also includes the original Sandman plugin. Owners of Sandman can upgrade to Sandman Pro for $29 USD.
More information: Plugin Alliance / Sandman Pro