Cinematic Instruments has recently launched a new library of rare and special instruments.
Our goal is to create expressive and powerful tools for people who are writing music. No matter what kind of music…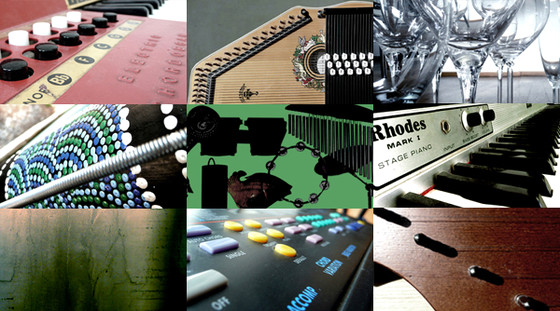 Cinematique Instruments libraries
String-Instruments

Autoharp – This is a stringed instrument with a series of chord bars. Despite its name, the autoharp is not a harp – it's a chorded zither – and it's the perfect instrument to give subtle highlights to all kinds of music. (6 patches)
Muted Baritone Ukulele – This is the largest size of ukulele and is tuned differently to the others (D-G-B-E, the same as the last four strings of a standard guitar, as opposed to G-C-E-A). We've concentrated on the muted played notes which can add beautiful light and subtle elements to your music. (3 patches)
Kantele – This a traditional plucked string instrument of the zither family native to Finland and Estonia with a distinctive bell-like sound and a diatonic tuning. We've made a Kontakt patch to play it in a chromatic tuning. (3 patches)

Key-Instruments

Magnus Harmonica Organ – This little organs use an electric fan to blow air across reeds, like a giant harmonica with keys. (3 patches)
Super Sound EK-470 – This is the processed e-piano sound of a low-cost, garbage keyboard for just €25. The sound is warm and crunchy. (3 patches)
Zeitter & Winkelmann Piano – This is our rehearsal piano, located in one of our control rooms. It's got a warm and organic charm. (3 patches).

Mallets / Percussion (Tuned)

Glass – A collection of glasses and vases in different sizes. We scrubbed, rubbed, tapped and hit all the glass and made some very nice instruments out of it. (3 patches)
Metallic Objects/Lids – A collection of lid sounds. We struck the lids with fingers and recorded various sounds. It allows you to make up your own lid-mallet sound.

Percussion

Metallic Objects/Kitchen, Handrail – This is a collection of sounds, noises, crashes and bangs made with our studio fixture and fittings: our iron KITCHEN and our staircase with its huge HANDRAIL. The result is astonishing: experimental percussion, strange and remarkable mallets.
Percussion – All percussion sounds are easy to play in a lively, realistic and organic way (no loops). Available as a multi set or single instruments of: Bongos, Chimes, Guiro, Ocean Drum, Shaker, Spring Drum and Tambourine. Just in the multi are: Toms, Cymbals and Wood.
Cinematique Instruments libraries are available in .nki-format for Native-Instruments Kontakt 3 or 3.5. All samples are in 44.1 kHz/ 16Bit mono/stereo .wav-Format. Prices start at 7 EUR.
More information: Cinematique Instruments