Cinematique Instruments has released its latest Klang series instrument Silver Lining, featuring the sounds of processed music boxes.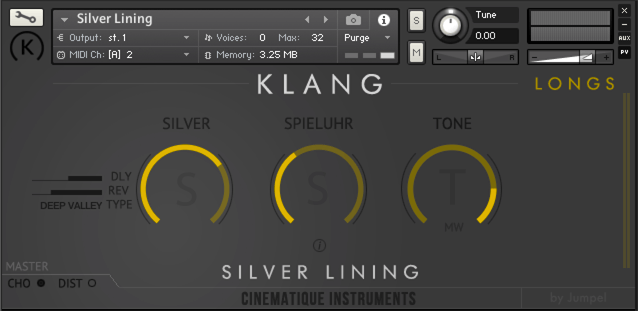 The sound of the instrument can be shaped with controls for tone, chorus, delay, distortion and 9 different types of reverb.
Whenever you turn a Spieluhr (aaka music box), you are surprised how fine, pure and present the sound of it is. The only pity is that the sound is so short and does not resonate any longer.

So we set out to build a Soileuhr sound that sustains longer. We grabbed some different Spieluhren and processed them heaviliy vigorously. We layered, freezed and even stretched them like we could. The result is a Klang instrument full of grace – one part clouds and one part Spieleuhr. Check it out and have fun.
Other recent Klang instruments include:
Clashing Rails with sounds from a huge station as well as one buzzing noise from a construction compressor.
Sonic Wasteland features tapped guitar harmonics that can be mixed together with a vintage glockenspiel and a resonance-pad.
Abandoned Zoo contains 2 selected lonesome atmospheres which can be morphed controlled by the modwheel.
The Klang instruments are available as a free download for Kontakt 5.6.8 or higher (full version).
More information: Cinematique Instruments