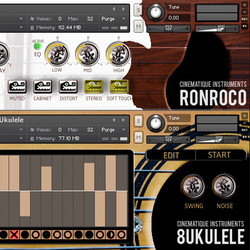 Cinematique Instruments has released version 1.1 of the Ronroco virtual instrument for Native Instruments Kontakt.
The Ronroco is a stringed mandolin like instrument of the Andean regions. It has a sound box traditionally fashioned from the shell of an armadillo or tortoise, now often made of wood. It typically has 10 strings in five courses of 2 strings each. Primarily played in traditional Andean music, today, it is often to be heard in the music of Gustavo Santaolalla.

As a bonus we also recorded a soprano Ukulele which was manually customized from a four to eight string version.
Changes in Ronroco v1.1
Ronroco

A bug concerning the arpeggiator has been fixed.

8Ukulele

The strumming engine now has a cursor light which indicates the current bar position.
A bug which caused wrong starting points in strumming engine has been fixed.
A problem with the keyswitches has been fixed.
Ronroco for Kontakt is available to purchase for 27 EUR. The version 1.1 update is now available to download to Ronroco users.
More information: Cinematique Instruments / Ronroco