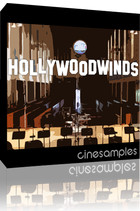 Cinesamples has announced HollyWoodWinds, a comprehensive sampling of the orchestral woodwind ensemble.
This library's collection of scales, runs, phrases, chords, textures, trills, FX and full ensemble patches, will get you thinking again about using woodwinds in your next cue.

HOLLYWOODWINDS: Bringing the woodwinds back into orchestral film scoring.
HollyWoodWinds features
Groundbreaking Cinesamples "Intelligent Time Engine" – Auto Tempo Awareness / Syncing.
Smart Tempo Matrix Sample Selection.
Extensive RR/Legato Programming.
Keyboard Style Patches:

Tutti Ensemble
Octaves Ensemble
Major/Minor Triads Ensemble
Unison Tremolos
Chordal Tremolos
Tritone/FX Tremolos

Scales and Rips:

Major Scales
Minor Scales
Diminished Scales
Whole Tone Scale
Chromatic Scales
Tonal Rips
Atonal Rips/FX Rips

Orchestrated Textures and FX:

Random Note Staccato Patterns
Pitch Bending FX
Cluster Chords/Flutter Chords
Repeating Octaves Duplets
Repeating Octaves Triplets
Marching Textures
Repeating Major/Minor Chords All Inversions
Chordal Trills (Aka John Williams)
Lydian Thirds
Light Hearted Motifs
Oom Pahs – Major Minor
Inspiring Textures 1
Inspiring Textures 2
Inspiring Textures 3

Mic Placements: Stage Mics, Close Mics (Both Independently Mixable).
HollyWoodWinds for Kontakt will be available for purchase on October 1, 2009, priced at $299 USD.
You can win a free copy of HollyWoodWinds by following Cinesamples on Twitter. A winner will be drawn randomly on September 30.
More information: Cinesamples / HollyWoodWinds