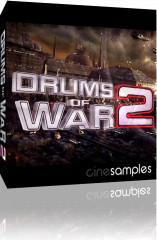 Cinesamples has released Drums of War 2, a percussion sound library for Native Instruments Kontakt.
Drums of War 2 is the newest member to the cinesamples percussion family, and its parents are beaming. Following in the scope of the original Drums of War this new volume takes a different approach to achieving massive-percussive impact.

Whereas the paramount concept of DOW 1 was recording huge orchestral drums in a huge space this time we used specific instrumentation/production techniques to achieve our result. DOW 2 contains entirely new sample content and entirely new instruments – those which we have never sampled before. The foundation of this library being the mighty taikos.
Drums of War 2 features
8 GB library, featuring Chang Chang, Djun Djuns*, Doumbek, Frame Drums*, Gong, Hang Drum, Kissing Fish Shaker, Metals, Mixing Bells, Mondo Toms*, One Shot Shaker, Shime Daikos*, Sub Boom, Tabla, Taikos* (* ensemble patches containing 2-4 sub patches + ensemble patches)
All DOW 2 percussion was sampled in 24/48 with the best gear, in a fantastic Los Angeles studio, by one of Hollywood's most in-demand percussionists.
Everything recorded with 10xRR and up to 10 velocity layers.
Drums of War 2 for Kontakt 3.5 or higher (full version required) is available to purchase for the introductory price of $199 USD (regular $229 USD).
Cinesamples has also announced a Black Friday Sale.
This Friday, for 24 hours ONLY Cinesamples is offering discounts of up to 40% on ALL LIBRARIES. (*Offer does not apply to DOW2. VOXOS will be 20% off)
More information: Cinesamples / Drums of War 2