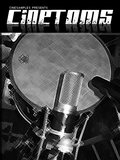 CineSamples has released CineToms, an explosive Cinematic Tom library for Gigastudio, Kontakt and EXS24.
CineToms Patches: (445MB)
12′ Drum
12′ Drum (High Tuning)
13′ Drum 1
13′ Drum 2
14′ Drum
15′ Drum 1
15′ Drum 2
16′ Drum With Brushes
Super Toms
Each patch contains rolls, flams and basic playing samples.
CineToms is available as a download with an introductory price of $49.95 USD (normal price $59.95 USD).
Visit CineSamples for more information.