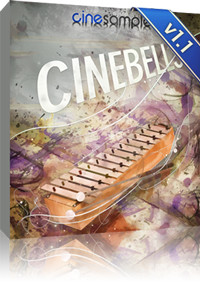 Cinesamples has released version 1.1 of CineBells, a virtual instrument library for Native Instruments Kontakt, featuring a collection of pitched bells, dulcimers and keyboards specifically designed to construct tonal groove elements.
We have added several new toys to the Cinebells arsenal. From specially designed Brass Wind Chimes to a quirky Metal Music Box, many of these new instruments will add several new textures to your pallet.
CineBells v1.1 features
8 New Patches.
Updated Tuning.
Better Volume Balancing.
Slight playability enhancements.
Cinesamples has also announced the availability of The Everything Bundle.
We've added all new bundles for you like our CineSymphony CORE Bundle that gives you CineStrings CORE, CineWinds CORE, CineBrass CORE and CinePerc CORE all-in-one.

We've also added bundles like: CinePerc CORE + PRO and a Legacy Percussion Bundle, but we are most excited to now offer our The Everything Bundle. Yes, that's right, everything we make as one bundle! If you purchase The Everything Bundle you will receive 20% off* any new single instrument product we release for life!
The Everything Bundle costs $4,299 USD.
Additionally, you can save up to 15% off Cinesamples products in a Holiday Sale, which lasts until January 1st, 2014, midnight PST.
More information: Cinesamples