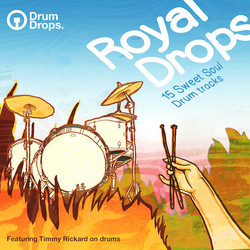 Drum Drop has launched Royal Drops, a sample library featuring a collection of fifteen soul drum tracks.
Royal Drops is an album of 15 soul drum tracks, engineered and performed by Timmy Rickard. Royal Drops takes its reference from the music produced at Royal studio in Memphis during the 1970's. Home to legendary producer and founder of Hi Records, Willie Mitchell. The tracks are based upon recordings of Hi Record artists Al Green and Anne Peebles, with drummers Al Jackson JR and Howard Grimes providing their unmistakable grooves.

This release incorporates key components found in the classic Hi Records drum sound, including swung bass drum patterns, 8th note emphasis on the hi hats, classically simple drum fills and a few 6/8 drum grooves. A big reason why this drum style is so revered is because of the thoughtful simplicity in which Al Jackson JR and Howard Grimes composed their drum parts. Using that same ethos, Royal Drops will be perfect for a wide range of producers and composers who are looking for timeless grooves to get creative with.
The Royal Drops album is available to purchase for £60 GBP (multi-tracks, unmixed) / £42 GBP (stems, mixed) / £30 (drum loops). Tracks are also sold individually.
More information: Drum Drops / Royal Drops