Cinetools has announced its new Trailer Tools collection, a series of compact sample packs offering an all-in-one solution for film and game trailers that demands professional music production.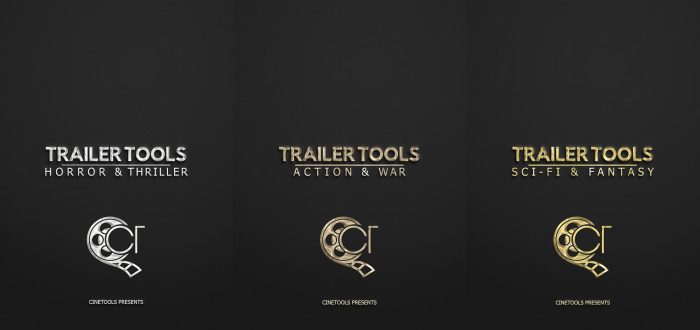 All the sound effects have been hand picked here for five different editions and each one is focused on their unique elements… Just find the missing parts of what you need to make your trailer projects like a PRO!
Trailer Tools currently spans three collections:
Action & War brings you high-quality Blockbuster trailer SFX including all the core elements such as energetic hits and boomers, hardest slams and strikes, heavy explosions, epic rises, intense atmospheres, suspenseful stingers, captivating downers, organic transitions, various type of whooshes and dynamic transitions and beyond. Whether you're looking to create epic-battle scene or adrenaline-pumping action scores this collection is well-suited for any kind of cinematic productions. Also good for any motion design in need of an additional punch to it.
Horror & Thriller brings you cutting-edge sound effects with modern horror and thriller aesthetic, covering a wide range of trailer sfx such as; blood-freezing stingers, horrific rises and eerie transitions, extreme shockers and slams, chest-crushing impacts, frightening whooshes, ear-destroying explosions, darkest booms, unnerving tensions and sinister atmospheres, anxious suckbacks, creepy downers and subfalls all this sound are ready to help you to make your audience jump out of the chair and hit the ceiling.
Sci-Fi & Fantasy contains high-quality and ready to use galactic/spacey and robotic type trailer sound effects ranging from; biomechanical hits, morphing whooshes, heavy transitions, otherworldy atmospheres and soundscapes, futuristic rises, intense booms, realistic explosions, energetic suck-backs, sci-fi pass-bys, low-end downers, subfalls etc.. All these sounds are ready to enhance your works and perfect for creating high definition cinematic beds for any science fiction, space-fiction and fantasy scene or projects.
The Trailer Tools packs are now available with prices starting at £14.95 GBP.
More information: Cinetools