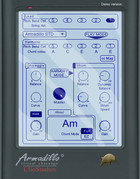 ClioStudios has released Armadillo – Virtual Charango, a virtual instrument based on a south american instrument called "Charango".
The origin of the instrument dates back to the time when south american lands were colonies of european kingdoms. Back then, the natives quickly learnt how to play and build the musical instruments the europeans had brought, and soon they where building their own versions of those instruments. Some reserachers have found evidence of charangos being used during the XVII century, but no-one has ever been able to give a definitive answer to the question of when or where was that instrument created.

Today, it is possible to find charangos being used in Perú, Chile, Bolivia and Argentina, with many different sizes, number of strings and tunnings available.
Armadillo – Virtual Charango features
Strum and Arpeggio techniques, with on-the-fly articulation switching using a keyboard controller with sustain pedal.
Intelligent chord finder supports more than 80 different chords and "Easy Chord Mode" for easy control.
Knobs to control every aspect of the instrument.
Full support for MIDI and DAW automation.
Pitch Bend assignable independently to any or all of the 5 string.
Armadillo is available as a VST Instrument plug-in for Windows PC for the introductory price of $99.90 USD until November 1, 2009 (MSRP $150 USD).
note: ClioStudios is currently preparing a new sample-set and some enhancements for this instrument. These will be available as free downloads for all registered costumers.
More information: ClioStudios / Armadillo – Virtual Charango