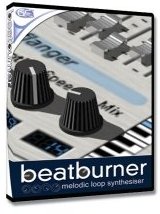 Code Audio has set free Beatburner, a synthesiser plug-in which generates its output by processing wav files.
BeatBurner, using innovative wave shaping and filtration methods, turns innocent drum beats, loops or sounds into new, fresh and vibrant audio parts for you to incorporate into your musical arrangements.
Beatburner features
Full VST automation of all parameters.
5 Phat Filters.
Envelope Modulation.
Intuitive User Interface.
Built-in Sample Library.
Pattern morphing.
Enveloped, LFO Controlled and User 'Drawable' Filters.
MIDI Learn – for all knobs and sliders.
10 Sample slots – allowing easy switching between samples.
Built-in effects – Delay, Flanger and Distortion.
Sync to host – run any number of BeatBurners in parallel.
Selective randomisation – user selectable randomise features.
Beatburner is available for Windows PC.
Check the Beatburner blog for more information and a link to download Beatburner.