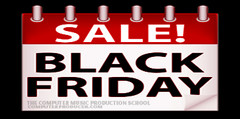 The Computer Music Production School has announced a Black Friday Open Enrollment Event for their All-in-One Complete Online Music Course, featuring a 50% discount on open enrollment.
The Computer Music Production School's All-in-One Complete online music course ($2,500) is now available for $1,250. At the end of the course, students will be able to release as many albums as desired on itunes and will have created an action plan outlining steps to turn their music hobby / profession into additional income.

The music course is comprised of seven lessons and teaches students how to be an artist, music producer, beat maker along with recording, mixing, mastering and helps develop a personal music business plan. Course duration is up to individual's pace and can be taken in 7 weeks, 7 months, 12 months or as long as needed. The course allows each student's home studio to become their personal recording school. The curriculum gives personal music production critique and feedback with student adviser support provided at no additional charge. Support includes one on one mentoring on music business, marketing and advanced homework assignments including ear training and sound design. Students will be given skills to work out of any studio or use any gear.
Black Friday Event – Open Enrollment
All-in-One music course enrollment is only $1,250 including one-on-one student adviser support.
Payment plans range from $104/12months to $179/7months and are interest free.
Student's who pay tuition in full receive unlimited student adviser support and 10GB of drum and instrument sounds from their partner website GotchaNoddin.com.
Students get opportunity to sell music productions and potential job and record label placement.
Black Friday Event will expire January 1st, 2012 or when available student space is full.
More information: Computer Music Production School