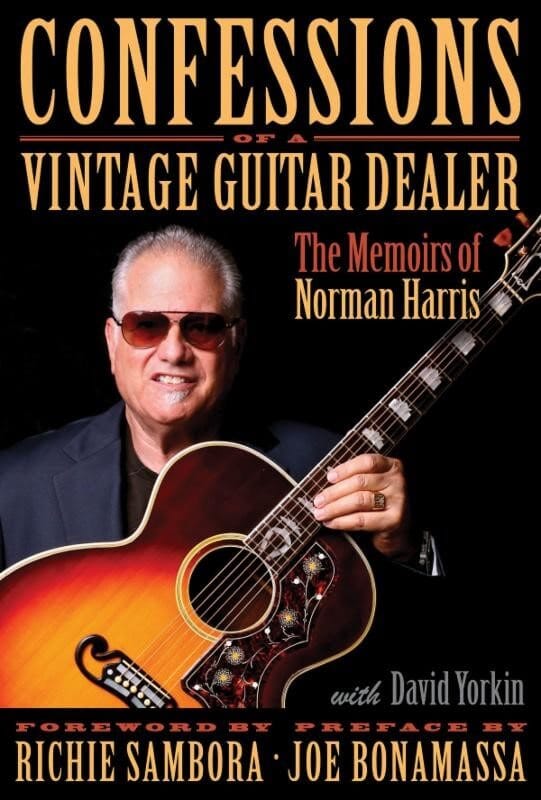 Hal Leonard Books has announced Confessions of a Vintage Guitar Dealer, a book in which Norman Harris tells how he became the world's leading seller of vintage guitars.
As founder and owner of the legendary store Norman's Rare Guitars, he has sold some of the finest fretted string instruments to the biggest stars in the world, including George Harrison, Bob Dylan, Tom Petty, and many others.

Confessions of a Vintage Guitar Dealer tells the story of how Harris moved to Los Angeles in 1970. His first plan was performing, but plan B was buying and selling guitars, and he had no idea how much opportunity for this there would be. Many bands came to LA also hoping to make it big, but those who didn't had to sell their instruments. This helped make early-1970s Los Angeles a haven for beautiful vintage guitars. At the same time, Hollywood was beginning to realize the value of time-correct instruments in film, and the recording industry recognized the high-quality sound vintage instruments produced. The value of these instruments has grown dramatically since the '70s, and the vintage guitar market has become an international phenomenon – with Norman Harris at the center of it all.

Filled with fascinating stories and insights into the entertainment business, Confessions of a Vintage Guitar Dealer is an intriguing memoir from a man who has spent a lifetime getting extraordinary instruments into the hands of extraordinary artists.
To celebrate the launch of the book, Hal Leonard and their new online community backwing, Epiphone, and Harmony Central have teamed up to offer one grand prize winner a Limited Edition 2015 Joe Bonamassa Les Paul Standard guitar (with hard case and certificate of authentication signed by Joe Bonamassa!). Second prize winners will receive signed copies of Confessions of a Vintage Guitar Dealer, and third prize winners will receive accessory goodie bags from Norman's Rare Guitars.
Enter the contest before July 1st, 2016.
Confessions of a Vintage Guitar Dealer is available for purchase for $29.99 USD.
More information: Hal Leonard / Confessions of a Vintage Guitar Dealer