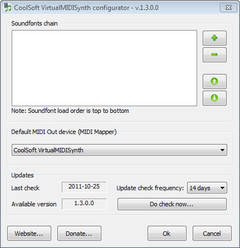 CoolSoft has updated VirtualMIDISynth, a software MIDI synthesizer implemented as a Windows multimedia user driver, accessible as a standard MIDI Out device.
Changes in VirtualMIDISynth v1.3.0
New: Added update check feature; you can configure VirtualMIDISynth to automatically check if an updated version is available.
Default check frequency is 14 days (can be changed with configurator). If an update is available, a balloon notification appears on systray when VirtualMIDISynth is loaded (but no more than once a day).
New: Mixer window position is now clipped to the nearest screen, avoiding it to open out of screen when switching from dual-screen config to single.
New: Updated bassmidi.dll to version 2.4.8.
Fix: Fixed an important memory leak on Mixer window that causes hosting process memory to continuously increase when the Mixer is shown.
Fix: MidiMapper now creates the whole registry path if not exists.
Fix: Configurator now checks if another instance is running.
VirtualMIDISynth for Windows is available as freeware. Donations are appreciated.
More information: VirtualMIDISynth