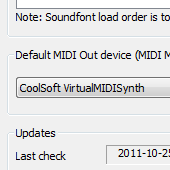 CoolSoft has updated the VirtualMIDISynth software MIDI synthesizer implemented as a Windows multimedia user driver, accessible as a standard MIDI Out device.
Changes in VirtualMIDISynth v1.3.1
NEW: Post setup actions are not preselected by default.
Show readme.txt" option has been removed and this file is now shown during into setup (while still available through Start menu link).
"Run configurator" and "Open website" checkboxes are blanked if a SoundFont is already configured.
Clickthrough users should now be happier during updates.
FIX: Fixed updater code causing VirtualMIDISynth device to disappear on some localized WinXP versions. (thanks to user "exit" from kvraudio forum who helped pointing out compatibility issues under his localized XP)
VirtualMIDISynth is available as freeware for Windows PC. Donations are appreciated.
More information: VirtualMIDISynth