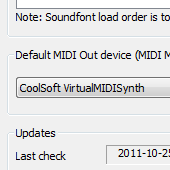 Coolsoft has updated its VirtualMIDISynth software to version 1.4.0, adding support for 64-bit MIDI client applications.
VirtualMIDISynth is a software MIDI synthesizer implemented as a Windows multimedia user driver, accessible as a standard MIDI Out device.

It works on Windows XP / Vista / 7 (both x86 and x64), and is based on the great BASS library from un4seen.
Changes in VirtualMIDISynth v1.4.0
Drive

New: Added support for 64bit MIDI client applications (on 64bit OS).
New: Better compatibility with BASS based MIDI clients, like Karafun and Synthesia.
New: Default systray context menu item is now mixer which can be opened by double clicking icon.
Fix: Increased sound buffer efficiency and better threads management.

Configurator

New: Rewritten configurator with a new tabbed interface; now it could contain the new options in a more clean GUI.
New: Lot of new settings added:

"advanced" settings to reduce CPU requirements disabling some features (like effects, polyphony, …).
output audio device selection.
automatically open MIDI Mixer while playing.
raise MIDI player process priority to "High priority".
enabling audio hardware mixing.
audio output buffer size (default 250ms).

New: Option to preload the whole soundfont file into memory before play (enabled by default). It increases the required memory and adds a small delay at start, but also gives a smoothest play because samples are already available in memory.
New: Horizontal scrollbar into soundfont list to allow reading long filenames.

Mixer

New: Better loking mixer VUMeter bar, it now appears like a LED stripe.
New: Mixer level meter now shows the running average of output level instead of the instant value, making it more realistic and "analogic".
New: Increased channel name font size and enabled cleartype drawing.
VirtualMIDISynth is available to download as freeware for Windows.
More information: VirtualMIDISynth