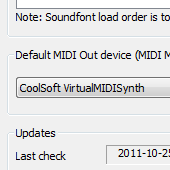 Coolsoft has updated the VirtualMIDISynth software MIDI synthesizer for Windows to version 1.6.0.
VirtualMIDISynth is a software MIDI synthesizer implemented as a Windows multimedia user driver, accessible as a standard MIDI Out device.

It works on Windows XP / Vista / 7 (both x86 and x64), and is based on the great BASS library from un4seen.
Changes in VirtualMIDISynth v1.7.0
Additional languages (German, Japanese, Russian, French, Spanish, Polish, Indonesian, Swedish).
Added support for GM/GM2/GS/XG instrument names, now correctly shown on MIDI Mixer.
Added an activity indicator on each MIDI channel, useful to quickly see which channel is actually playing.
MIDI Mixer can now be moved by clicking (and dragging) anywhere on it.
Added support for MIDI running status bit (some players call it "redundant MIDI data").
Fixed BASS initialization in case of already initialized BASS library.
Language files are now UTF-8.
Better language file memory management.
Soundfont listbox doesn't enable Apply button on checkboxes state changes.
VirtualMIDISynth for Windows is available to download as freeware.
More information: VirtualMIDISynth