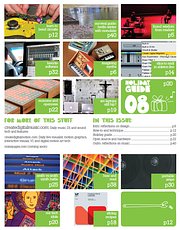 Last month Create Digital Music asked its readers to share what they would want to receive, give to newcomers, and what they would want to read.
Yesterday CDM presented the Winter 2008 guide, a wonderful publication (print edition + pdf download) including a Holiday Guide, Circuit bending 101, Dan McPharlin's cardboard miniature synths, Ableton Live slicing tutorial (including freebie) and much more.
For digital musicians and lovers of sound, Create Digital Music Winter 2008 extends the popular website createdigitalmusic.com with a handbook of the best in products, how-to's, and features.

In this issue, we explore the best products and gifts for beginners and advanced users, from synths to strange music controllers to software to books and listening. We learn how to slice up audio into powerful software drum machines in Ableton Live, with a free companion download at covops.org/cdm. Dan McPharlin shows us his intricate, imaginary synth designs, constructed by hand in cardboard. Sound artist Mike Una introduces circuit bending, which gives you the power to turn cheap toys into strange sonic wonders. Technologists reflect on the best in design, the potential of open source, and how to use music to survive Berlin's drab, wet, and cold winters.

Unlike traditional editorial-only content, the CDM Winter guide is full of ideas and images from the createdigitalmusic community.
The CDM Winter 2008 guide is released under the Creative Commons
Attribution-Share Alike 3.0 Unported License. You can download the pdf version from lulu.com, free of charge — this publication is a true gift in itself!