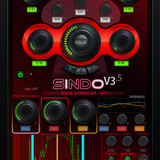 Crysonic has released version 3.5 of Sindo, a stereo image expander (widener) / narrowing audio plug-in processor for Windows and Mac.
V3.5 introduces new features such as fully customizable UI interface colors and fixes reported issues.

SINDO V3.5 now offers an even greater number of enhanced new features and quality while retaining extremely high levels of mono compatibility with minimal side effects. V3.5 of SINDO audio stereo image processor includes an industry first Stereo image compression feature, this is not to be confused with audio level compression however it is a proprietary stereo field width compression system developed by Crysonic which is fully automated and working at zero latency allowing the user to attain maximum stereo width and retain mono compatibility with minimal side effects.
Changes in Sindo v3.5
UI and general performance increase Mac OSX and PC
Sindo now comes in any color you wish, it's your choice, adjust the hue, saturation AND brightness to you liking.
Custom user presets – Save and Recall
Automation performance increase
Ableton mono issue fixed
Logic Pro preset recall fixed
Digital Performer user presets now work
Wrong UI color on some hosts fixed
Internal processing is now full 64-bit for everything (Native 64-bit plug-in for Mac and PC coming soon)
Manuals updated
Sindo is now available to purchase for Windows and Mac (VST/AU), priced at $129 USD. Previous Crysonic customers are eligible to purchase Sindo V3.5 for $31.95 USD.