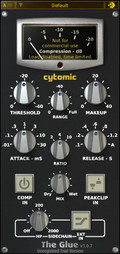 Cytomic has released released public beta version 1.0.13 of The Glue, an analog modelled bus compressor plug-in for Windows and Mac.
Changes since The Glue v1.0.11
Fixed Random crashes on exit.
Added back all io configs (4-2, 2-2, 2-1, 1-1) to support hosts that don't support external sidechaining. This will mean on some hosts that you see multiple copies of The Glue, one will be with and one without external sidechaining.
80 Factory Bank 1 presets.
Mac Rtas version.
Au now supports mono and stereo operation and typed units for automation.
Any single Mac copy can be renamed to .vst .component or .dpm and it will work as a vst au or rtas respectively so you only need to download it once.
Updated post envelope follower low pass filter algorithm more closely match the analog response.
The Glue public beta is available for download as a 14-day trial. It can be registered for $99 USD.
Purchasing the Beta entitles you to a full license of The Glue, and you have full rights to all 1.x updates, including a Manual and Presets once they are ready.
The RTAS version is only for Mac at the moment. People buying The Glue now will receive the Win RTAS version for free once it is ready.
Visit the public beta page for details.