Following the sneak peek of the GUI of the new speaker correction option for AX32 at AES 2017, Digital Audio Denmark will showcase the SPQ solution at NAMM 2018.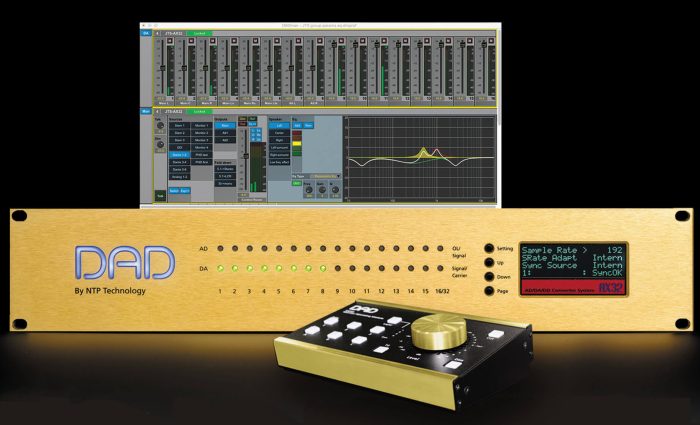 SPQ speaker processing is a combined hardware and software addition to the optional Pro | Mon | 3 license for the company's AX32 audio-router and converter. The SPQ hardware expansion card holds powerful DSP processing and offers up to 1,024 individual EQ filter bands that can be accessed and edited through the DADman software with the Pro | Mon | 3 license, as well as bass management system with support for multiple subs woofer control and matching of different speaker configurations in an immersive audio environment.
Overall, it is a complete audio monitor control solution that offers stand-alone monitor control functionality and speaker processing, covering a wide range of functionality for music recording studios, location music recording, as well as post production environments of any size and type – including full 64-channel Dolby Atmos setups, offering tailored managing of immersive audio formats in a very flexible way.
DAD will be part of the new collaboration between The Audio Engineering Society and The NAMM Show under the name AES@NAMM. The new SPQ solution can be experienced at the Pro Sound Symposium: LIVE & STUDIO at Anaheim Hilton, Palos Verdes A (Level 4) throughout the show.
"In short, when combining the flexible routing, processing and control surface options with the ability to quickly save and recall setting, you essentially get a centerpiece that allows you to switch fast and efficiently between various workflows. Potentially, this can save significant amounts of valuable production time," says DAD Sales Director Mikael Vest. " Now, with the addition of SPQ, users everywhere will get an even more powerful solution at their disposal.

Technically speaking, the new SPQ | Speaker Processor card is capable of handling 128 channels with 1024 filters that can be allocated to the outputs of Pro | Mon | 3, all with a 56 bit floating point calculation precision, giving at filter dynamic range of >130dB. Further, Pro | Mon | 3 and DADman 5.2 support 64 bit Apple OS X and Microsoft Windows which gives a more responsive feel."
Pro | Mon | 3 in Action
When adding the Pro | Mon | 3 license, a wide range of additional monitoring control features are added to the DADman software, enabling AX32/DX32 to operate as a powerful processor with full control of signal routing, control room speaker levels and monitor cues in any channel format including stereo, 5.1, 7.1.4, Dolby Atmos and other 3D and immersive audio formats.The control and configuration is managed by the new DADman 5.2 software, which also serves as a control center enabling devices compliant with Avid Eucon or MIDI to operate the monitor functions.
More information: Digital Audio Denmark