Audio Plugin Deals has launched the Dan Dean Signature Bass Collection, a bass guitar instrument library for Native Instruments Kontakt.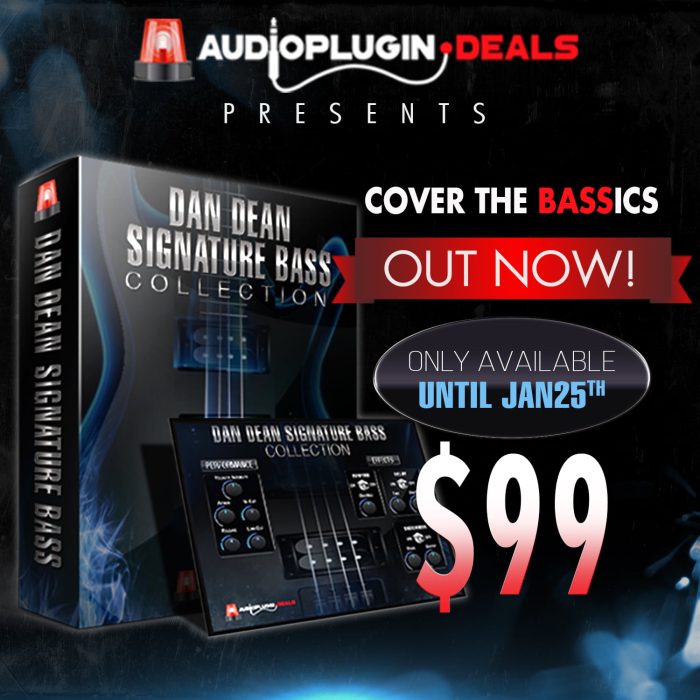 This collection, exclusive to Audio plugin Deals, features 5 different bass guitar libraries, each with its own distinctive sound.

These instruments have been sampled in incredible detail using Accusample™ technology. It's a painstaking process making sure all the samples sound extremely consistent with ultra-low noise floors. It takes days and days just to sample an instrument this smoothly and evenly. Each instrument features multiple dynamics and round robin variations. Every bass has up to 34 different preset timbres… and these aren't just emulations in Kontakt.

In most cases, the signal chain includes classic outboard amps and cabinets which have been sampled for ultimate realism. The libraries also include interface controls for effects and performance to further tweak the sounds. With all these options for customization, these libraries will give the perfect tone not just for jazz projects, but for all musical genres.
Dan Dean Signature Bass Collection features
Very high quality basses.
Accusample technology™.
A huge number of samples, as many as 1,461 per instrument.
Programmed using 4 round robins of every note on the instrument.
24 bit sampling.
"Supertuned" using Peterson Strobosoft™.
A wide assortment of amplifiers via both IR and using Kontakt's built in tools*.
Distortion presets*.
Distortion + amplifier cabinet presets*.
Chorus presets*.
Modwheel, sustain pedal and velocity switching presets allowing you to switch between the Slap and Pop samples (Alembic SlapPop Bass only).
Very clean signal path.
For the Alembic SlapPop Bass, we used DR Hi Beam™ Roundwounds.
The Dan Dean Signature Bass Collection will be available for 2 weeks only, priced at $99 USD. After January 25th, 2017, the library will no longer be available for purchase.
More information: Audio Plugin Deals