Carl Tatz Design has announced that multi-award-winning engineer and co-host of acclaimed educational web series Pensado's Place, Dave Pensado, has installed the new Carl Tatz Edition Dual 15-800 workstation by Argosy Console.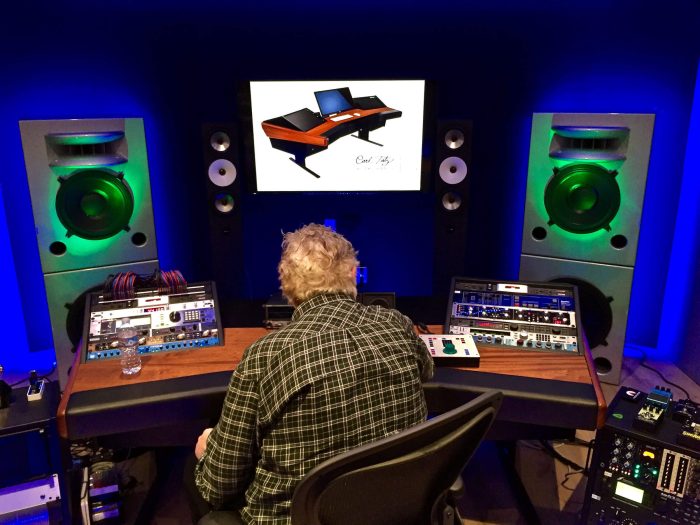 GRAMMY-winning engineer Dave Pensado has installed the new Carl Tatz Editon Argosy Dual 15-800 workstation in his mix room at The Fab Factory Studio D in Los Angeles.

After researching other offerings, Pensado made his selection based on the Carl Tatz Edition Argosy Dual 15-800's ability to minimize reflections (and hence frequency dips at the listening position) and its stellar track record with Carl Tatz Design PhantomFocus™ installations. However, he was still concerned about how the console might negatively affect the monitor performance in his studio. As you will see in this video, the opposite became the reality. In the video, Pensado comments, "It's more than a piece of furniture – it actually helps me make better records."

"It's very gratifying to have someone of Dave's caliber recognize our product offerings, and we're very happy that the Argosy Carl Tatz Edition Dual 15-800 has found a new home at the Fab Factory Studio D," comments Carl Tatz.

Pensado, along with creator and co-host of Pensado's Place Herb Trawick, has created a powerful forum that has been nurturing and enriching the pro audio community for several years now. The team shows no signs of stopping, as they prepare to unveil Pensado's Village in the near future. (Details coming soon.)
The Carl Tatz Edition Dual 15-800 workstation is available for purchase for $2,898.99 USD.
More information: Carl Tatz Design