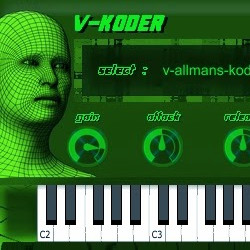 Diego Callegari Sounds Images (DCSI) has released V-Koder, a free sample based instrument for Native Instruments Kontakt and VST.
V-Koder is another free sample based synth instrument, originally recorded, designed and edited by DCSI, bringing you 3 vocoded, nonsense, short voices.

All available in an incredible tiny size, less than 1 mb!

The use of the modwheel in your midi controller add a formant-talk effect. The instrument comes with velocity sensitivity and a bunch of effects (Delay, Reverb, Lofi) available on the interface, for an easy set up.
DCSI has also announced a VST plug-in version of the previously released Combat Loop Drum Machine instrument.
Both libraries (and plugins) are available to download at no charge.
More information: Diego Callegari Sounds Images