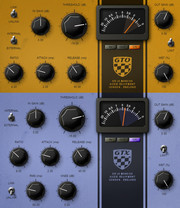 de la Mancha has released GTO & GTX, a pair of vintage style 'character' compressors, designed like their muscle car name-sakes for brute power, pure speed and to make a loud noise.
They have everything you'd expect in a thorough-bred compressor, but are tuned for maximum control and ease of use, each with their own unique vintage colouring on top.

GTO is a peak compressor, designed for raw power and lightning response. GTX has a smoother RMS delivery with further refinement in the shape of a knee control. They both feature super-fast attack and release times and have a wide range of threshold, ratio and output boost, so they can cover everything from subtle correction to death-by-compression, with everything in between. With an external sidechain, wet/dry mix for NY compression and a hard limiter too, you can really push these babies to get pumping bass and block-rockin' beats. The metering covers input, output and gain reduction, showing real-time and peak levels.
GTO & GTX features
Vintage style Peak and RMS compressors with external sidechain, parallel compression and comprehensive metering.
Subtle colouring from a home-made blend of harmonics, saturation and noise.
Internal or external sidechain routing.
Wet/Dry mix control allows phase-free blending of dry uncompressed signal for NY style parallel compression.
RMS window can be set for smooth cruising or sharp response [GTX only].
Knee amount can be changed from gentle curve to sharp edge [GTX only].
Stereo input detection can be linked or unlinked.
Distortion reduction for very short release times.
Optional hard limiting on final output.
Metering covers stereo input, output and gain reduction. All meters show actual and peak levels.
Non-linear knobs for precise control at small values.
Presets covering all functions and different configurations.
GTO & GTX are available as VST effect plug-ins for Windows PC, priced at $29 USD.
Until the 1st November 2009, the bundle will include a free copy of GTA, a stripped-down, hot-rodded, limited edition version of GTO, with less features but more flavour.
More information: de la Mancha / GTO & GTX