Dear Reality has announced the release of dearVR MONITOR, a plugin that aims to bring the perfect control and mixing environment to any room by using just a pair of good headphones and your DAW.
dearVR MONITOR is an ideal solution for musicians that want to bring their recordings to the next level and for engineers and producers that need to work at varying locations or from home.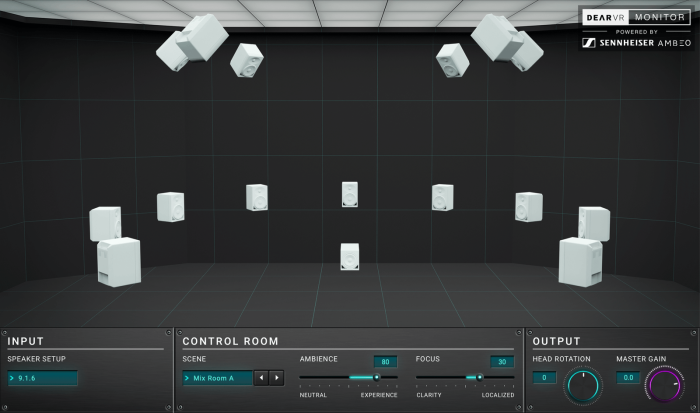 It's not a big secret, creating a great mix is so much easier within a perfect control room. We've probably all experienced when a final mix has not translated as expected to other systems. With dearVR MONITOR you get access to your own virtual reference-grade mix room over headphones. Don't limit yourself anymore by poor room acoustics or missing speaker setups and benefit from Dear Reality's outstanding virtual acoustics headphone technology.

dearVR MONITOR enables you to mix anytime, anywhere, and in any common speaker setup from Stereo up to 9.1.6. Start producing immersive audio formats like Dolby ATMOS even today. Experience a personal acoustic reference you can rely on to enjoy mixing with greater confidence and accuracy.
dearVR MONITOR features
Reference-grade mix room: For stereo and multi-channel productions.
Multi-channel speaker setups: Support of all common speaker setups for immersive audio productions, including height layers, like 7.1.4 up to 9.1.6.
Ideal mix room models: Choose from 5 ideal mix room models (Mix Room A, Mix Room B, Mix Room Large, Analytic Dry, Analytic Position).
Common listening environments: Double-check your mix in 11 typical listening environments (Live Venue, Stadium, Acoustic Venue, Club Large, Club, Car, Van, Cinema, Home Theater, Living Room, Kitchen).
Adjustable acoustic: Easily adjust the acoustic characteristics of your mix room using the AMBIENCE slider.
Reduced spectral colorization: Unrivaled FOCUS parameter to reduce spectral colorizations including patented Clarity algorithm by Sennheiser AMBEO.
Head rotation: Support for head tracking.
Easy-to-use: Easy-to-use graphic interface showing the selected loudspeaker format.
dearVR MONITOR is available at an introductory price of $199.99 USD (MSRP $249 USD). The plugin supports VST3, AU and AAX formats.
More information: Dear Reality