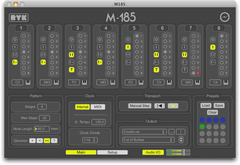 Defective Records has released M185, a software step sequencer for Windows and Mac.
M185 is a MIDI-enabled software recreation of the hardware M185 step sequencer, designed by RYK – developed with their input!
M185 features
Virtually all major functions from the hardware M185.
Multi-stage step sequencer with stage-selectable gate modes.
Gate modes include Mute, Single, Multi and Hold.
Trill mode available when in Multi mode within a stage.
Polyphonic potential when using long Note Length values.
Each stage can be from 1 to 8 clock pulses in length.
Internal or MIDI clock control.
Built-in clock divide capability.
MIDI output to any hardware or software synth.
VST instrument hosting.
16 preset slots for instant recall of parameters.
Presets can be saved to and loaded from disk.
M185 is available to purchase for $35 USD.
More information: Defective Records / M185