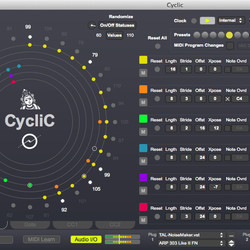 Defective Records has released version 1.5 of CycliC, a step sequencer instrument for Windows and Mac.
At a high level, Cyclic consists of a set of 32 note values (or rests). This sequence of notes is cycled through (hence the name) by up to six "subsequences." These multiple subsequences, each with different parameters, produce very interesting overall results when summed together.

Although it is easy to understand and use, Cyclic allows for sequences with a much greater degree of variation and liveliness than traditional step sequencers, often with unexpected results, even with small changes in note values and/or subsequence parameters.
Changes in CycliC v1.5
VST plugin instrument hosting for up to 3 plugins.
Per step Velocity, Gate, CC1 and CC2 control.
Override Note, Velocity and/or Gate options per track.
Override Velocity to zero, allows for "CC-only" tracks.
MIDI CC control of almost all parameters, including easy to use MIDI learn feature.
Constrain random value ranges.
Ability to constrain random parameter range.
Added . key to toggle between Main and Setup.
Added P key for Panic.
Added LED for MIDI clock.
Significantly reduced CPU use, especially on graphics-challenged systems.
Active step now highlighted in white, easier to see.
Updated Mutable Instruments logo.
Added tool tip for presets to remind how to store/recall presets.
Fixed Preferences name.
Built with Max version 6.1.5 (2117171, 32 bit).
CycliC for Windows and Mac (VST) is available to purchase for $40 USD.
More information: Defective Records / CycliC