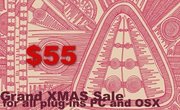 delaydots.com has announced a grand XMAS sale, offering Spectral Suite and SpectrumWorx at $55 USD.
The Spectral Suite is includes five unique DSP plug-ins.
Spectral Morpher allows you to completely alter the source stream according to another, loaded sample or side chan stream with different transformation modes. There 11 processing modes available: Convolution (cross synth), Magnitude only convolution, spectral Vocoder effect, Blend and 7 mutation modes: uniform, linear, non-linear and combined mutations.
Phat is a bass exciter (based on subharmonic synth), used to excite and mix low frequency harmonic content.
PitchShift is a spectral pitch shifter that preserves the incoming signal's duration, and has adjustable pitch for each individual band. This plug-in is based on the phase vocoder effect.
daBomb is a unique distortion device plug-in with 2 process modes based on physical modelling.
Phat Pro is enhanced version of the Phat plug-in. Adds even more flexible controls on low frequency content. Phat Pro can be purchased separately from the bundle.

SpectrumWorx is a modular effect processor plug-in that works exclusively in the frequency domain and gives you endless possibilities for tweaking your sound.
Preserving the excellent sound quality and user friendly interface of its predecessor Spectral Morpher, SpectrumWorx adds significant new features – not the least of which includes its new modular format. That means you're able to create an endless quantity of presets using a vast palette of powerful processing modules.
delaydots.com plug-ins features
Frequency domain processing with a resolution up to 2048 bands (4096 FFT size).
Both frequency domain (magnitude and phase) and phase vocoder domain (magnitude and 'true' frequency) processing.
Huge library of built-in processing modules.
16 queue slots that can be filled with modules
Switchable 8 slots mono sampler.
Flexible and portable presets system.
Different plug-in signal flow modes: from mono to 4 inputs mode (host dependent).
Unlimited ways to create, design and process sounds.
Detailed user manual.
Rich presets library created with collaboration well known industry people includes: Martin Walker (Sound on Sound Magazine), Lassi Nikko (Brothomstates), Scot Solida (The Electronic Garden) and more.
The XMAS sale is available until 7 January, 2009.
Visit delaydots.com for more information.