Plugin Boutique has launched two Bass XL Black Friday Bundle deals, featuring a the limited edition Bass XL and other Denise audio effect plugins.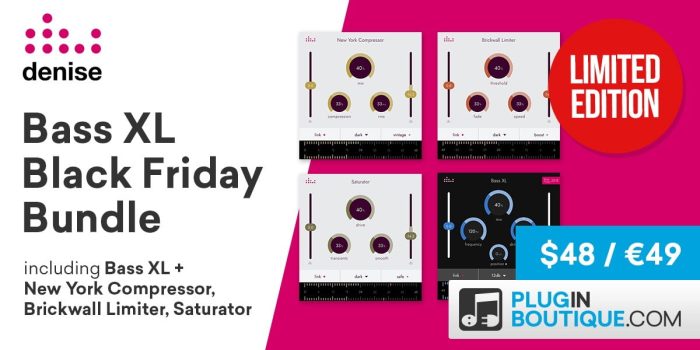 The new Bass XL plugins adds weight, and also works great on melodic content. It allows you to enhance a bass or electric guitar, a kick drum, sub bass, percussion track or a whole drum sub mix.
Bass XL features
Tone dial: for full control over the character and color of your boost.
Ability to solo the added bass signal in order for reference or apply additional effects like saturation or distortion.
Volume independent drive: for a consistent sound in dynamic tracks.
Different filter slopes for a defined sound.
Low CPU usage.
No need for dongles or complex licence managers.
Bass XL is includes in two limited time bundle deals, alongside three other plugins from the Denise collection (New York Compressor, Brickwall Limiter, Saturator, Noize).
The bundles are on sale for 49 EUR until January 1st, 2019.
More information: Denise