Denon DJ's new X1800 is a 4-channel DJ club mixer with creative and powerful Sweep and BPM based FX controls.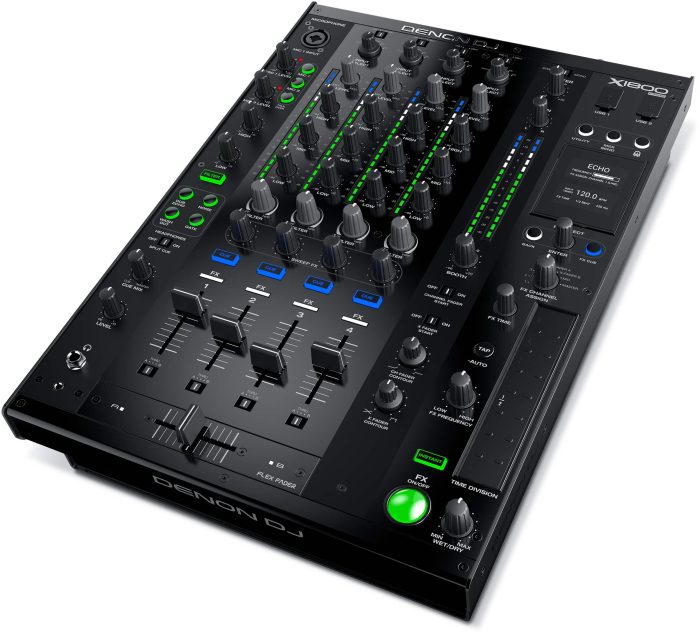 True to the Denon DJ engineering heritage, the X1800 features extremely high-quality, 24bit, 96kHz audio output, ensuring superb sound characteristics. The X1800 is perfectly suited to integrate with Denon DJ's new SC5000 Prime media via the Engine™ Connect protocol. This shares the beatgrid and time information with the mixer, from the player, to align the FX LFOs. Denon DJ's expressive 'Flex-Fader', Crossfader adds diverse physical performance flexibility, whilst the all-new frequency controlled 'Band-Isolation' brings even more sonic manipulation possibilities to creative DJs.

"The mixer is the most important part and center-piece of any DJs set up," said Ross Goodwin, Product Manager for Denon DJ. He added, "The X1800 Prime brings our legendary audio quality in a familiar club friendly layout with new effects, more dedicated control and a connection with our SC5000 Prime media players that puts forth a fun and altogether highly integrated DJ experience."
X1800 features
4-Channel Digital Mixer with (4) phono/line switchable channels.
BPM FX section with frequency controlled 'Band-Isolation'.
Dual USB audio connections for software and audio devices.
Dedicated Sweep and BPM FX Knobs — high-quality effects for each channel with a single knob turn.
Expressive EQ – choose Classic or Isolation modes an and an Adjustable Filter ResonanceControl.
'Engine Connect' protocol for beatgrid locked FX.
Expressive Denon DJ 'Flex-Fader', Crossfader.
Connect MIDI based effects and instruments.
24-bit/96kHz digital output for uncompromised audio quality.
Crisp OLED screen for precise menu based adjustments.
(4) Digital inputs for high-resolution audio mixing.
LAN Hub for up to four players or accessories.
Rugged metal construction.
The Denon DJ X1800 has a retail price of £1,499.99 GBP.
The SC5000 Prime is a DJ media player featuring a high definition, multi-touch display that enables gestures and swiping for the ultimate DJ expression and immediacy of interaction.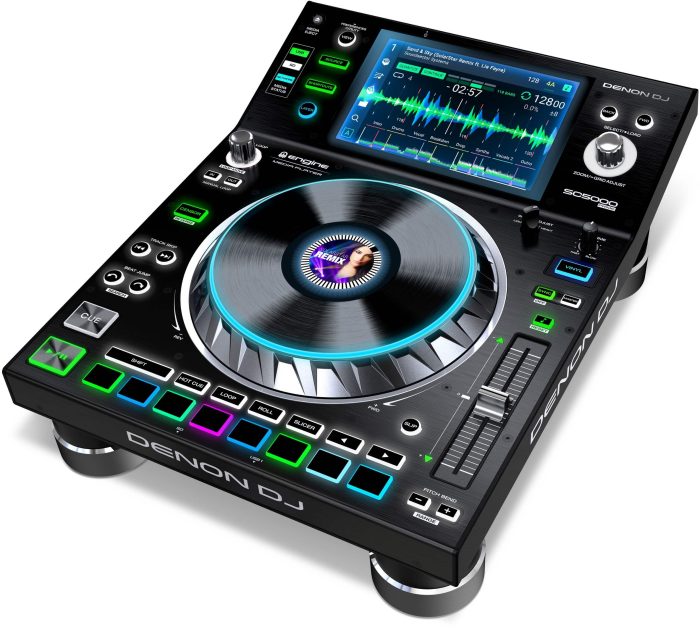 The SC5000 analyzes music files on the fly, it has dual-layer decks with dedicated outputs, a multi-touch screen with easy and fast navigation, and an 8″ rugged jogwheel with central display that shows current playing track or custom artwork.

This is the first media player to fully analyze both beatgrid and musical key onboard the unit, delivering an unprecedented level of immediately-actionable information to the DJ. Plus, the SC5000 is the first media player in the world to use the all-new Engine™ Prime software. Engine Prime is an innovative music librarian and analysis system that lets the DJ organize, categorize and import music, either
directly from iTunes® and Serato® DJ or via drag 'n drop from existing music folders. Using the SC5000's on-screen alpha-numeric search facility, DJs can quickly find, load and play what they want on the fly, without distraction or hesitation. A LAN output makes it simple to link up to four players atonce, offering music file, digital networking and communication capability for the most high-end of events.
SC5000 features
7-inch HD display with multi-touch gestures.
24-bit/96kHz digital audio outputs.
Dual-layer playback with individual audio outputs.
Plays uncompressed audio formats (FLAC, ALAC, WAV).
8 multifunction trigger pads for Cues, Loops, Slices and Rolls.
8-inch rugged metal jog wheel with HD central display.
Customizable RGB color around the jog wheel.
(3) USB and (1) SD input for music playback.
LAN output to link to up to four players.
The will be available in Q1 2017, retailing at £1,499.99 GBP. Engine Prime is included free with the Denon DJ SC5000 media player.
Denon DJ has also announced the VL12 Prime, a direct-drive professional DJ turntable.
Recognizing the unfulfilled need in the DJ marketplace for a no-compromise, all original-tooled turntable that combines the superb isolation, audio performance and rugged construction that are so important to the demanding professional DJ, the Denon DJ VL12 Prime carves out an absolutely unique niche for itself in this dynamic and vital market segment. It's the ultimate DJ turntable that professionals have hoped for, but it's actually obtainable.

"The new VL12 Prime is a huge win for DJs seeking the best in audio performance, platter torque and unique looks," said Ross Goodwin, Product Manager for Denon DJ. He added, "The modern design, and customizable light ring leaves no doubt that this is an original;; not an OEM copy turntablists are used to seeing. Most importantly the isolation design and ability to still sound great in loud bass-heavy environments are exactly what DJs have needed in this decade."
VL12 Prime features
Isolation feet eliminate unwanted vibration and feedback.
Highest-in-industry 5kgf/cm torque on "High" setting.
Innovative 'easy grip/brake' chamfered platter redefines tactile DJ touch.
Isolated motor design, for optimal signal-to-noise ratio.
S-shaped tone arm for accurate tracking.
Reinterpreted tone arm support with dual-function 'lock or rest' feature.
Rugged all-metal tone arm base and high-quality brushed metal controls.
2-speed operation 33 1/3rd and 45 RPM (45 RPM adapter included).
Adjustable pitch range: 8%, 16%, 50%.
Built-in RGB lighting illuminates platter's edge.
Color selection and brightness controls.
The VL12 will also be available in Q1 2017, priced at £649.99 GBP.
More information: Denon DJ