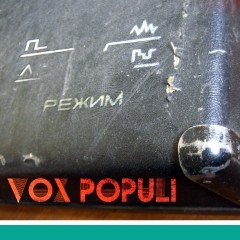 Detunized has released DTS004 – Vox Populi Synthesizer, an instrument for Ableton Live, featuring the sounds of the Polivoks.
All 5 original Polivoks waveforms where captured and integrated carefully into our unique Multiwaveform Oscillators. Each waveform is represented by 32 single samples that cover all five registers of the original Polivoks: 32´ | 16´ | 8´ | 4´ | 2´

Due to the semi-modular principle of Live we could extend the Vox Populi Synthesizer far beyond the original Polivoks layout. We designed 4 different types of Multiwaveform Oscillators capable of Waveform Shaping, Frequency Modulation, Amplitude Modulation and Pitch Modulation.

Also we created 24 additional oscillators containing further sets of multisampled Polivoks timbres. Each one of these 28 different oscillators is hot-swapable and can be used easily to extend the sound spectrum of the Vox Populi Synthesizer.
DTS004 – Vox Populi Synthesizer features
Synthesizers: 3 + Vintage FX Box.
Keyrange: full (C-2 to G8).
OSC Types: 28 + Noise Module.
Patches: 22.
No.of Samples: 459 (24 Bit, 44,1 kHz).
Download Size: approx. 200 MB.
Installation instruction and tutorial video included.
The Vox Populi Synthesizer is available as an instant download for 6.98 EUR (subscribers pay 4.98 EUR). A ReFill for Reason (5 basic waveformsets plus 23 multisample patches, ~150 MB download) and FL Studio Directwave bank (5 basic waveformsets + 34 multisample patches, ~231 MB download) are available as well.
More information: Detunized / Vox Populi Synthesizer