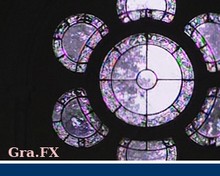 Detunized has announced the release of DTS019 – Gra.FX, a sound pack for Ableton Live featuring header artworks transformed into sound.
The Gra.FX Sound Pack contains a collection of sophisticated Ableton Instruments for the creation of constantly evolving rhythms, textures, pads and drones.
The sample pool of these instruments consists of fifteen transformed header artworks that had appeared on the Detunized.com website during the past one and a half year.
Before being transformed by an additive synthesis algorithm all selected artworks were separated into their respective color space and brightness range with the aid of high-resolution spectral analysis software.

The revealing sets of rich and complex samples then formed the basis of the Ableton Instruments. Each of the fifteen instruments has eight remote controllable sound shape devices with carefully adjusted multi-parameter mappings that grant for creative enhancements of the "graphic-sounds".
Gra.FX features
15 instruments with full range.
No. of Samples: 88, 24 Bit/44 kHz, looped.
Disk space: approx. 140 MB.
Requires Ableton Live 7 or higher.
DTS019 – Gra.FX is available to subscribers for 4.98 EUR and as an instant buy for 6.78 EUR.
More information: Detunized