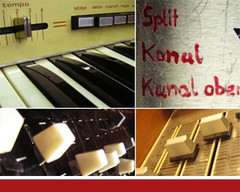 Detunized has released DTS010 – Four Organs For Music, a new Ableton Live Pack featuring 4 transistor organs from the early seventies.
Each single register of each organ was precicely mirrored into the Ableton Live cosmos. The Live Pack contains the full feature organ devices plus the single registers. So new combinations across all four organs can be created. The GM-761 spring reverb is also included – listen to the audiosamples!
DTS010 – Four Organs For Music features
4 instruments: Vermona ET-3 (1974), Vermona ET-6 (1973), Universum Duo (1975), Philicorda GM-761 (1972)
Single registers: 68
6 drumloops, spring reverb
Keyrange: C1 to C6
No. of samples: 1299 (24 Bit, 44,1 kHz)
Disk space needed: approx. 160 MB
Installation instruction + manual
DTS010 – Four Organs For Music is available to download as an instant download for 6.98 EUR. Detunized subscribers pay 4.98 EUR.
More information: Detunized